Browsing articles tagged with " minecraft"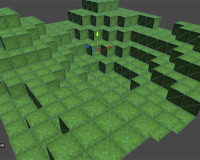 Saw this in the forums (simpleminecraft), sounds interesting!. Havent looked the sources yet, but made own test version first.. Current version: – Single chunk.. – Chunk creator (random or perlin) – 2D array for grid heights – 3D array for grid cell types – Using […]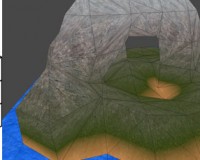 Making a list of Unity3D related voxel / marching cubes tutorials, engines, demos etc. (image on left is from wikipedia) (Feel free to comment if some useful links are missing) *First: Go vote on Unity Feedback to get Voxel Terrains FREE VOXEL ENGINES OR DEMOS […]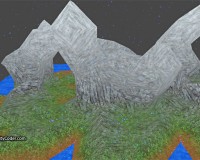 Marching cubes terrain sculpting v2.0 (this is also based to the earlier webgl port) Current Features: – Can add / remove ground – Special shader for blending materials (based on world Y) – Moved raycasting to camera, can add multiple chunks (but they are not […]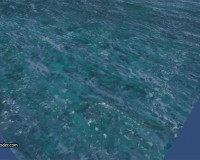 Tried to convert one minecraft water shader to Unity.. some bugs left, as it doesnt really look that nice? (although havent seen the original in action..) Webplayer: http://unitycoder.com/upload/demos/minecraftwatershaderpluginUnity1/ Download source: later..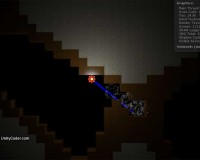 Never-ending Perlin Noise 2D caves. Quick test version, you can move around.. (see also version/image#2 below) Todo/ideas: – Movement too fast – Fog of War? – Destructable walls? (Problem: How to save them? If you go back to same direction, map is generated on the […]
Yay..somebody has started a minecraft-style terrain tutorial here: http://www.blocksters.com/node/57 Converted the ChunkRenderer to unity javascript and it worked!..Oo (see image#1) (now just waiting for the next parts of the tutorial..) While waiting, added other sides for the planes + uv (see main image ^) Its […]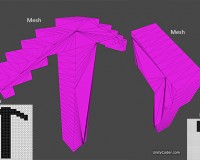 Bitmap to 3D Extruded Mesh-script. Related to this forum topic (unity forum link) What it is? It reads bitmap pixel by pixel, checks if pixel alpha value is > 0, then add vertice there (but skip adding, if we are going the same direction) (it […]